The Best Keto Test Kits For Weight Loss People Ever!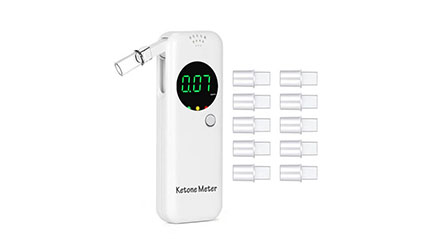 What Are The Keto Test Kits Include?
Keto test kits are used to test your urine, blood, and breath(saliva) for ketone bodies. They are designed to measure the amounts of ketones in your body and determine whether or not you are following a ketogenic diet correctly.
There are many different types of keto test kits on the market today, but they all have one thing in common: they test for BHB, acetoacetate, and acetone. In general, Keto Test Kits will include the following:
Test Strips:
Depending on the test method, you can choose the test strip you want. Generally speaking, there are test strips for blood tests and urine tests on the market. You just put the test strips into the corresponding blood or urine according to the instructions, and then wait for the comparison results.
Storage Container:
A container is provided to store the test strips when not in use so that they do not get damaged and can be reused later on.
Test Device:
This is usually a lancet device that pricks your finger to get blood from it for testing. However, some more convenient methods don't require puncturing your fingers or wetting a urine test strip: the Breath Meter. This test tool is very convenient, you just need to blow on it and your test is done. Then you can wait a few seconds for the result.
Mouthpieces Of The Test Device:
If you choose Breath Meter, you can also get some mouthpieces in keto test kits for weight loss people. This helps you check your breath, which will tell you if your body is burning fat and producing ketones. Moreover, the merchant provides you with enough mouthpieces that you can also replace at any time. For example, SZEEK will provide you with 10 mouthpieces, which can meet your daily use needs.
Ketone Breath Meter Is Vital In The Keto Test Kits For Weight Loss People:
The types of ketones that different instruments can detect are different. Usually, a blood test can detect BHB in the body. A urine test can detect acetoacetate. The ketone breath meter effectively detects acetone in the human body. These test tools all have different characteristics and working methods.
Blood Test:
This is one of the most popular and reliable Keto tests. It helps determine whether your body is burning fat or sugar for energy. The blood test needs a small amount of blood from your fingertip and then it will give you the results in minutes.
Urine Test:
The urine test can be used by anyone who wants to know if they're on track with their keto diet. This test allows users to simply urinate on a strip and wait for it to change color based on how much ketones are present in their urine. The more ketones in your urine mean that you're losing weight faster.
Ketone Breath Meter:
This is an accurate way to check for ketosis. It's a portable device that you can use at home or anywhere else. The device measures the amount of acetone in your breath. When you're in ketosis, your body produces more ketones, and this results in increased acetone production. The meter uses your breath to detect the presence of acetone and determine whether you're in ketosis or not. This is the best way to test if you're on track with your weight loss plan.
So, if you are looking for some accurate, practical, and inexpensive keto test kits for weight loss people, Ketone Breath Meter would be a good choice.
What Are The Most Suitable Keto Test Kits For Weight Loss People?
For someone on a ketogenic diet or a ketogenic dieter, what they need is a set of tools that can really help them lose weight. So what kind of keto test kits are exactly for weight loss people?
Here are some opinions shared by many dieters:
Easy To Use:
Ketogenic dieters may appreciate testing kits that are handy and portable. Many people who are more on ketogenic weight loss, don't know their weight loss progress. Therefore, you will need to check your ketone levels frequently. At this time, whether it is a blood test or a urine test, it is very troublesome. It's not as convenient as a test tool that just takes a breath.
Accurate Results:
The essential thing you need to consider when choosing a set of keto test kits for weight loss people is whether they give accurate results or not. Some test tools will use some new technologies to ensure the accuracy of detection. For example, some Ketone Breath Meters (SZEEK) will use a new sensor technology: Mems technology. This makes it more sensitive and can quickly detect the ketone levels in your breath.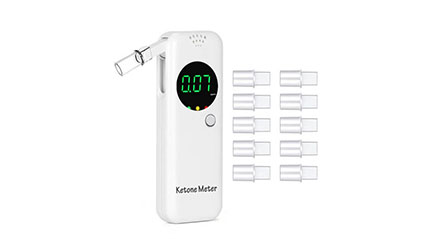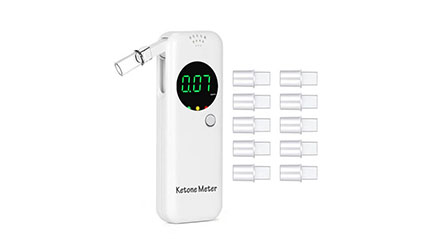 Handy And Portable:
In fact, the lighter and more convenient keto test kits will be loved by people. They can easily carry it anywhere without worrying about weight or volume. Besides, it's also easy to use and operate, so it's just perfect for those who don't want to spend too much time at home because they have many things to do outside.
The Best Keto Test Kits For Weight Loss People From SZEEK:
Here, I recommend a company with nearly 20 years of production experience: SZEEK. It can provide practical and cost-effective keto test kits for weight loss people.
To be honest, many of the company's employees are using the Ketone Breath Meter themselves to help them lose weight. So it can be said that they all know how it feels with people who are losing weight.
Losing weight is not an easy thing, it requires unremitting efforts and long-term persistence. There are even times when you have to lose weight alone for fear of ridicule. It seems a little lonely. Now, though, you don't have to worry about not seeing concrete weight loss results.
The SZEEK Ketone Breath Meter can act as your loyal partner, telling you: you've done a great job! You are one step closer to your goal!
About SZEEK
SZEEK is a company that specializes in manufactur-ing high-precision breathalyzers. We are the top manufacturer of breathalyzers in China. More