Why Are More People Choosing A Portable Breath Tester?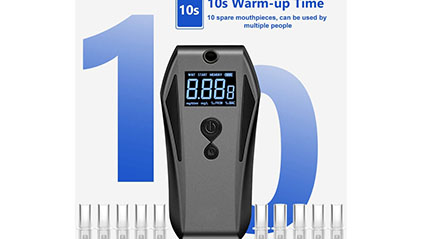 With the development of various technologies, the portable breath tester is getting smaller and smaller and has a more precise accuracy. A portable breath tester is not only loved by many consumers, but also by the person in charge of many large places or commercial places.
These portable breath testers can help them better serve consumers, and thus establish a good corporate image.
What Is A Portable Breath Tester?
A portable breath tester is a small hand-held breath tester that uses some methods to detect the content of ingredients in your breath. The common portable breath tester generally refers to the breathalyzer used to detect the alcohol content in the user's breath.
The structure of a portable breath tester:
It has a mouthpiece that connects to a port on its side, which connects to an air tube and then into your mouth so you can breathe into it.
It contains an alcohol sensor that detects the alcohol level in your body based on how much you exhale, which turns on when you inhale and off when you exhale again.
According to the type of sensor, portable breath testers can also be divided into 3 categories: Fuel Cell Sensor breathalyzer, semiconductor sensor breathalyzer, and MEMS technology sensor type breathalyzer. These three types of portable breath testers each have their own characteristics, such as cost performance, reliability, and so on.
But they are all able to provide accurate testing results after completion of the test.
Why Are More People Choosing A Portable Breath Tester?
Portable breath testers, also known as personal breathalyzers, have become increasingly popular in recent years. Here are some of the reasons why more people are choosing to use them:
Convenience:
One of the primary reasons people are choosing portable breath testers is convenience. They are small, lightweight, and can easily be carried in a pocket or purse. This makes it easy for people to test their blood alcohol concentration (BAC) on the go, without having to go to a police station or other location to use a larger, more expensive breathalyzer.
Cost:
Portable breath testers are relatively inexpensive compared to more professional-grade breathalyzers used by law enforcement agencies. They are also cheaper than paying for a cab or ride-sharing service, which can be a factor for people who frequently go out to social events.
Accuracy:
They can provide a good indication of whether a person is over the legal limit and should not be driving. They can also help people better understand their own tolerance levels, and how alcohol affects them personally.
For example, the sensor accuracy of SZEEK's portable breath tester EK918 is:
±0.01%BAC, ±0.1‰BAC, ±0.1g/L, ±0.05mg/L, ±10mg/100ml, ±0.1‰ Prom. Its precision measurement range is 0-1.90% BAC, 0-0.95mg/L, and 0-190mg/100mL, which can provide you with more accurate results.
Legal Protection:
Some people use portable breath testers as a legal defense. If they are pulled over by law enforcement and are asked to take a breathalyzer test, they can use their personal breath tester to determine their BAC before they take the official test. This can help them decide whether to take the official test or not, depending on their BAC level.
Health and Safety:
Lastly, portable breath testers can help promote health and safety. People who use them can make informed decisions about whether or not they are fit to drive after drinking, and can avoid putting themselves and others at risk of harm. They can also help people avoid unintentionally over-consuming alcohol, which can lead to alcohol poisoning and other health problems.
What Can You Do With A Portable Breath Tester?
For many places, the portable breath tester can be used not only for personal use. Its commercial use has great development prospects. For example, prepare some portable breath testers for tourists in large-scale carnivals to avoid traffic accidents, and thus show your concern for customers.
In addition to these uses, it also has some common uses that are used by more people:
Workplace Safety:
Many industries, such as construction, manufacturing, and transportation, have strict rules regarding employee drug and alcohol use. Portable breath testers can help employers enforce these policies by providing a quick and easy way to test workers for alcohol consumption before they start their shifts.
This can help reduce the risk of workplace accidents and injuries, which can lead to lower insurance premiums and fewer worker compensation claims.
Hospitality Industry:
Bars, restaurants, and other establishments that serve alcohol can benefit from having portable breath testers available for patrons to use. By providing this service, these businesses can demonstrate a commitment to promoting responsible drinking and ensuring the safety of their customers.
This can help to reduce the risk of accidents and injuries caused by drunk driving, which can improve their public image and increase customer loyalty.
Personal Use:
In addition to these industries, there may be individuals who need to purchase portable breath testers in bulk for personal use. For example, event planners may want to provide these devices at large gatherings, such as weddings or corporate events, to help guests monitor their alcohol consumption.
Additionally, companies that sell personal breath testers may want to purchase them in bulk to offer discounts to customers or to distribute them to retailers.
Wholesale Portable Breath Testers From The Manufacturer Is More Cost-Effective:
If you are looking for a cheap portable breath tester, you should consider buying wholesale from the manufacturer. This is more cost-effective than buying one from retail stores.
Wholesale portable breath testers from the manufacturer are usually cheaper than those sold in retail stores. The reason for this is that they have bigger discounts when they sell their products at wholesale prices.
Further, these types of products are usually made by large companies that have economies of scale. This means that they can get better deals on raw materials and other costs related to manufacturing these products.
If you need to purchase a batch of accurate, fast, and portable breath testers, SZEEK will be one of your best choices. Because they have rich experience in this field and many years of production experience. Their portable breath testers are lightweight and have warm-up and response times of just a few seconds, improving your experience.
About SZEEK
SZEEK is a company that specializes in manufactur-ing high-precision breathalyzers. We are the top manufacturer of breathalyzers in China. More